How to Make More $$ As a Copywriter
Issue #62—April 19, 2019
If you're like me, you're gearing up for a family-filled holiday weekend. Hopefully you'll be able to put your business-related concerns on the back burner for a few days and enjoy it.
(That is, in-between trying to explain to your relatives that you don't get copyrights for a living...that you write the words used to sell things instead!)
Let's talk about this crazy little business where we sell "words" for a living. In this week's issue, I'm going to share with you some strategies for making MORE money from your copywriting business.
Because let's face it---you're not doing this simply because you "love writing". You need to make some serious coin from it---and you deserve to do so, especially if you're bringing value to the clients you serve. Let's start with the most obvious--yet too often shied away from strategy:
RAISE YOUR RATES!
Figure out where you fall compared to what others are charging for similar projects. You can do so by talking to other copywriters and finding out what they charge.
(I did this years ago before quoting one of my first magalogs to a client--a friend at about the same level I was at the time had done a project for the same client. So I found out what she charged for her fee + royalty and quoted the same...even though it was 3 times what I had charged for a previous magalog...and got the job!)
Another way to do this is to scope out as many copywriter websites you can find that have a "rate sheet" displayed. Now, I do NOT recommend you do this on your own website (it attracts price shoppers and it's best to customize a quote based on the proposed project anyway).
But you can use this tactic to gauge what others are charging. (Bob Bly has a rate sheet he provides potential clients that provides pricing for a wide range of projects. You can get it here.)
There are also some copywriter surveys out there that can be useful. My friend and colleague Abbey Woodcock recently did a survey of copywriters.
Shockingly (or maybe not so shockingly) she found that female copywriters were making 53 cents on the dollar compared to male copywriters. Read more about it here...and if you're a woman, follow her advice and consider DOUBLING your rates.
(Based on what I've seen what other female copywriters were charging before I began coaching them, I have to agree Abbey's advice is spot on!)
So how do you know if you are "ready" to raise your rates...and that clients will be likely to accept them? Aside from researching what the going rates are, and what particular clients typically pay for copy (since that can vary), here are some other signs it's time to hike your fees:
1) You've got more clients than you have slots available--When you start getting yourself booked out 3 to 6 months with clients on your "wait list" (and who have already plunked down a full 50% deposit to hold your time---you ARE doing that, right?), then it's pretty obvious you're now in demand. It's time to bump up your fees.
2) You've gotten a control or written a successful promo for the client you're working with, and they want to hire you for another promo. You are in the "catbird" seat here...especially if you gave them a deal to start. This is when you come back with a slightly higher fee, and/or a royalty (or bigger royalty percentage).
3) You've got at least a few controls or successful promos under your belt with other clients, which you can now use as proof of your copywriting abilities for potential new clients. You now hold a substantial edge over other copywriters to a publisher, supplement company, or other business. Make sure your fees and royalty arrangement match the fact that you're now a "proven" copywriter.
4) You haven't raised your fees in a loooooong time. Maybe you're humming along, booked with steady clients, making good money, and all seems fine. But even then, take a look around. Did you happen to notice, as Mick Jagger put it in "Shattered", the price of everything is going "up, up, up, up, UP!!!" If for no other reason than mere inflation, maybe it's time to update i.e., RAISE your rates. I just went to my dry cleaners, and noticed a sign had appeared in the last week showing their new pricing. You can do the same thing.
Quote with confidence. If you think the client is eager or pre-sold (via a strong referral) on hiring you, just put that seemingly "ballsy" number out there. You'll be surprised how the vast majority of the time the response is simply, "Okay", with no pushback.
Or you can give a range if the potential client is one you're not as confident about closing. Just make sure the number on the low end is one you'd be satisfied with. This also leaves the door open for adding in fees for other things, such as traffic driver emails in addition to sales page or VSL copy, for example, in order to boost your fee to the higher end of that range (or beyond).
Here's a tip I've heard before, but was just re-cemented into my brain after hearing Dan Kennedy speak a few weeks ago (along with an amazing amount of other marketing and business-building wisdom). Decide how much you want to make from your copywriting business--and reverse-engineer it.
Think about what's the "certain" money in your business and start there. Add in the "uncertain" money you can conservatively expect to earn from things like royalties.
Now add it all up. What's the difference between what you want to make and what you expect to make with your current income sources? What are you going to do to make up that shortfall?
A big part of making up that shortfall---aside from charging higher rates---is finding the right clients. Instead of constantly hustling for new clients, you want to seek out clients who are growing and always need more "stuff".
These are the clients who are most likely to become income partners and offer you opportunities for royalties, bonuses, and even equity as they grow...and you're able to grow together. We'll talk more about how to "scale" your copywriting business in an upcoming issue.
But for now, let's take a look at one of the many promotions that's landed in my mailbox in recent weeks. It does seem like there's been an increase in the number of direct mail health and supplement offers I've been seeing.
Perhaps companies are finding the reduced competition is boosting response and making up for the higher costs of direct mail. (And that's good news for us copywriters!)
What's in Kim's Mailbox?
Here's a promotion for an energy product that arrived in my mailbox. To be clear, the promotions I look at and critique in this e-letter are NOT ones that I've written (I know there's been some confusion about that in the past). I give my honest opinions about what I think is working well with the promo, and what I think could be improved or tested as a different approach.
This Dr. Sears promotion came in a #10 carrier with copy on the front side only:
The return address and logo lend instant credibility (and draw in people already familiar with Dr. Sears). The main teaser copy is good, but I feel like the first and second bullets under it could create more curiosity (the first one is saying the same thing as the main teaser).
Since fatigue is such a common concern, I'm not sure they're gaining anything by calling it out on the front of the carrier. I suggest testing not having any copy at all on the front (except for the logo and return addressing). The #10 carrier format combined with no sales copy will make it not feel like a sales piece. This would give it a greater chance of being opened by potentially creating more curiosity by not giving away what's inside.
Once you get inside, there are 3 components: a 5.5x8.5" lift letter folded in thirds (which I didn't read first since it was kind of lost), a 12-page, 8.5x11" side-stapled sales letter folded in thirds, and a business reply envelope.
I reached for the hefty sales letter first, and I think most people would do the same. However, let's look at the lift letter first, since it was clearly intended to be the first thing read:
It starts with a big promise (good) and a big blunder (bad): it says "in less time than it takes to read this email". Whoops! (Remember, this is a printed direct mail promo!)
Then there's a reference to a simple tongue "trick" that comes out of the blue. This would have been good to tease about on the front of the carrier (instead of a "basic blood test")...and it would have prepped the reader.
Aside from these issues, the main failing of this lift letter is it's not doing what a lift letter is supposed to do. It's meant to address one common main objection and overturn it...or provide an extra push or incentive for the prospect to take action (hence its name, "lift" letter).
As Malcolm Decker puts it, "The publisher's letter (or lift letter) is yet another voice backing up the key salesperson....speaking very plainly to point up a benefit, reassure a fence-sitter, or disarm a nay-sayer." It's not doing any of these things.
Now let's look at the first page of the main sales letter. It's got a strong headline that works well with the teaser copy on the front of the carrier...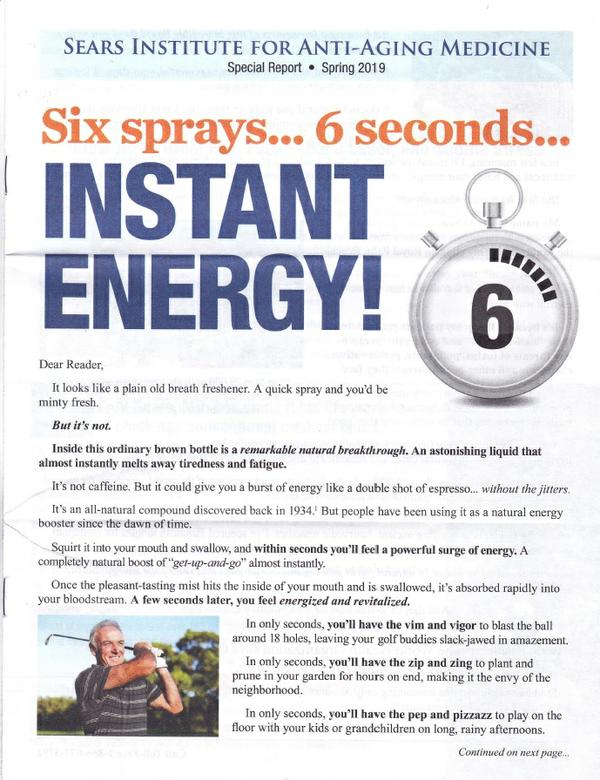 There's no warm-up here. The copy just gets right into the unique mechanism of the product. It does quickly move to future pacing by painting a picture of what you'll be able to do once you have the product and demonstrating the speed of result. This part of the opening is done very well in my opinion.
I do feel there's a lost opportunity to inject the doctor and his authority/leadership early on in the promo. Is he the one who discovered it? Was he at least skeptical at first, as one would expect a doctor to be?
It seems a bit "breathless" and very salesy right off the bat. I can see this working well online, and am curious if perhaps a slightly tweaked opening would work better for direct mail...especially if this is going to a cold audience. If you look at how other mailers like Healthy Directions do their leads, it almost always incorporates the doctor's leadership and builds up their authority early on.
Let's take a look at one of the inside pages...this one is page 8 of the sales letter:
One thing I noticed throughout is the subheads are mostly kind of "clever" versus providing an actual benefit. However, I will say the "B Student" subhead, while clever, did capture my curiosity to see why it was called a "B Student".
Obviously it was just because it's a B-vitamin, but I was looking for more of explanation. But the subhead did its job in getting me to read the copy.
I do like the next subhead ("Cut Your Risk of Age-Related Memory Loss by Half") and feel the promo could benefit by having more of those types of benefit-oriented subheads throughout for those people who scan through the promo...it's good to sum up the whole story via the subheads for those kinds of readers.
Let's wrap up by taking a look at the order certificate, which is located on the last page of the sales letter:
Back in the golden days of direct mail, we would have always put the order form on a separate piece. The idea is to make it as easy as possible to fill out and return in order to complete the sale. Anything attached makes it harder to respond.
And the prospect who is ordering may want to hang onto the sales letter, especially when the guarantee box is on the opposite side of the part of the order form that needs to be returned. This was something I always learned early on with direct mail---put the guarantee box where it's not on the back of the order form!
However, I suspect the majority of orders are coming in by phone anyway. And I suspect that this is something the company wants to encourage if they're good at upselling people. As it is now, there are only 2 options, with the 3-bottle option being the main one highlighted. There's no 6-bottle option, like is typical with supplement offers.
The thing is, a lot of people can be upsold into a 6-bottle option not just on the phone, but in how you present the offer in the promotion and on the order form. Not having it on the order form seems like a missed opportunity. (They may have tested this, and if not having the 6-bottle option worked better, then I stand corrected).
The one big problem on this order form that could be easily fixed is to make the toll-free number MUCH more prominent. I had to actually hunt for it. Calling should always be presented as the primary response option in a one-step, cash-with-order sales piece. You can still have your "3 Easy Ways" inset box, but have some big bold call-to-action copy shown very prominently with the toll-free number.
Each "obstacle" you inadvertently create results in decreased response. Some simple design tweaks and adding a 6-bottle option could boost the quantity of orders as well as the average order value.
(Note: this is one reason I always stay highly involved throughout the design process for any acquisition promos I write, so I can help direct these types of design decisions made along the way...and you should, too! If you can handpick who designs your promos, even better..)
That's it for this week's issue. It's good to be back! Hope you get motivated to take another look at what you're charging...and find these strategies helpful.
Yours for smarter marketing,
Kim
P.S. If you haven't yet raised your hand to let me know you want to be among the first to hear about when my Copywriting Velocity Copy Intensive will be made available and/or about any upcoming group coaching and mentoring opportunities, make sure you get your name and email on my priority list right here.
P.P.S. If you haven't grabbed Brian Kurtz's latest book Overdeliver (and aren't devouring it yet like I am right now), you'll want to do so ASAP. Go to this link to get an incredible treasure trove of bonuses (some of which initially sold for thousands of dollars) that will give you a PhD in marketing and copywriting and, more importantly, give you many profitable insights! You can get Brian's book itself for around 17 bucks...and the bonuses are free when you do. It truly is the deal of the century, and yet more proof that Brian is one of the (if not THE) most generous direct marketers out there! I don't know how much longer the set of bonuses will be offered so be sure to take action as soon as you can. (I get no commissions for mentioning this, I just want you to benefit richly from it!)