Penny-wise and Pound-foolish
Issue #64—May 3, 2019
I've been living the "copywriter's life" for 21 years now. Yes, it's official. It was late April 1998 when I first hung up my shingle as a freelance copywriter after walking out of my $100k-a-year marketing executive position at Phillips Publishing.
Man, have a lot of things changed since then.
There are significantly more opportunities for copywriters than ever before as the online marketplace has mushroomed. More companies need MORE copy for their sales pages, websites, video sales letters, emails, sales funnels, and social media.
There are also more copywriters than ever before, too. And I won't lie to you---I think it's been putting more pricing pressure on what copywriters are able to charge.
With more companies competing against each other selling a myriad of supplements, health and fitness products, skin care, financial and biz opp offers, and so forth, those "pies" that make up their specific markets are getting sliced up into thinner and thinner slices as they fight over every crumb of sales revenue with their competitors.
And that---combined with the ever-increasing supply of copywriters---is making it more of a challenge for copywriters to charge higher rates (until you've become "proven").
How things were in the good old days of copywriting
A few decades ago when Boardroom and Phillips dominated the direct response world (Agora was a force, too, but still an "up and comer" back then), companies would gladly pay significant sums to their top copywriters.
Heck, they'd hand over decent sums of cash even to less proven copywriters, because their insatiable demand for copywriters outweighed the supply. Simple economics at work. And because these companies valued copy--and knew each direct response promo did the job of an entire sales force--they were more than happy to pay good money for it in light of the significant upside should the copy produce a strong control.
I remember seeing some of the copywriter payment reports back in the late 1990s while I was at Phillips, with many copywriters collecting upwards of $200,000 or more in a single royalty check for just one mailing of a control that mailed several times a year. (You can bet for each $200,000 royalty check Phillips cut, they were raking in at least $5 million in sales. So it made solid financial sense to pay good money for the best talent.)
While there are some companies that can truly "scale" if they get a hugely successful promotion (Agora's many divisions are a perfect case in point--especially on the financial side), a lot of companies today don't have that same significant revenue upside able to be generated from a single mailing or online campaign.
Many of the best-known companies out there (some of which are my clients) are barely breaking 8-figures in annual sales. Even with a strong control, today's promos are likely bringing in maybe half a million in sales a year at best for the company.
When you hear about the high fees the top A-listers are able to charge--and what they've been historically able to earn in terms of royalties--it's important to remember it's a different world today. That said, there is still PLENTY of opportunity to earn a high six-figure income including royalties as a freelance copywriter these days (and more if you build out your business in various ways such as becoming a virtual agency).
The bottom line is, you need to commit yourself to getting really, really good at what you do. I could give you all the coaching advice in the world to help you land your dream client and negotiate your first deal, but what really matters is what happens when the rubber meets the road. What really matters is this:
Can you deliver?
This is the chokepoint that gets many a copywriter in trouble. There's nothing worse than "bombing out" with that first promo and having a short-sighted client never hire you again (I'm lucky that didn't happen with my first few bombs which, on the second try became multi-year controls.) Or  having your project "killed" after giving it your all.
The other key point to remember is this: always strive to work ONLY with clients who value copy. They need to value what you do, otherwise they won't be willing to pay for it. Part of this will be due to how much revenue potential they think hiring you to write a promotion will bring in for them.
Remember, they may be constrained by what they're able to invest in order to scale with your copy...no matter how good it is or how well it performs! But the main thing is, they need to recognize the importance of good copy for their business...and why it's so essential if they're going to succeed and grow.
I had lunch with a friend recently who's spent the past few years working with some impressive partners to develop a new product. It's in a fairly new niche with little competition and is really a breakthrough product.
He's spent a lot of time raising capital for it from both big and small investors (I was asked to invest but decided not to). I hadn't seen copy but had reviewed a few investor pitches as a favor. But this past week, he asked me to take a quick look at an email he was going to send to his list promoting the product. My advice to him...
Hire a good copywriter!
He'd had his wife write the email, it was not the right angle (it sounded desperate and self-serving vs. "what's in it for me", the prospect), the call to action was muddled and confusing, and there was no one cohesive sales page or VSL to present the product (which definitely needed explaining) and close the sale.
In spite of raising a significant sum (in the millions), he hadn't invested yet in GOOD copy from a professional copywriter. Sadly, it seems he doesn't get how crucial copy  is for your product launch or business to be successful. It's not just "tweaking" something that someone who doesn't understand the complexities of sales copy has written. If you skimp on copywriting and think you can still have a successful and growing business, it's being penny-wise and pound-foolish. They're both evil villains that will work against your best efforts...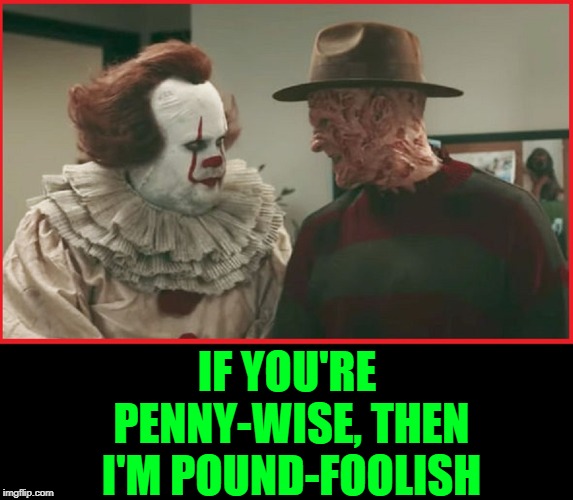 If you look at the top direct response companies today, like Agora, Golden Hippo, Soundview/Advanced Bionutritionals, and Green Valley--and the ones that are now legendary--they all value (or valued) copy. And more importantly (for us copywriters anyway), they're willing to PAY for it! Okay, rant over...but I hope you picked up some valuable insights as you look for clients or negotiate your arrangements. And if you're a marketer or run a business, remember that the most successful direct response companies have always placed a high value on the importance of good copy. As the late Bob King, when he was President of Phillips Publishing, used to say...
COPY IS KING!
Now let's take a look at some copy I've seen this past week...
What's in Kim's Mailbox?
I want to share a couple of things real quick. First off, I found it interesting to hear that Burger King (a place I never frequent) is kicking off a campaign this month in honor of promoting mental health awareness.
It's a good tie-in with their "have it your way" messaging, and a not-so-subtle dig at their main competitor McDonald's "Happy Meal". The idea is, you can order a Whopper meal with one of the names they've picked out that describe whatever mood you may be feeling. In other words, it's okay NOT to be "happy".
The funny thing is, I feel some of the moods they've picked are not in the words most people would use or immediately recognize. The biggest beef I have is with the "salty" mood meal. People I know say it could mean craving salty food, or being really angry (but there's already a "pissed" meal, so how to decide which one?)
In any case, this is why we do so much research into our customer avatars and know the exact words they use so we can use their language in our copy. It seems like a multi-billion dollar company like BK would be focus group-testing these mood names for months (or maybe they did, and I'm NOT their customer avatar...) You you can read about this interesting campaign here. Let me know what you think!
In other copy "news", I ran across this video sales letter while going through my "spam" folder. It's got an amazing array of upsells and downsells going on as part of the funnel. Just keep clicking out as if you're exiting the order page and you'll be amazed how they simply DON'T. LET.GO like you've just gotten bitten by a pit bull.
The email driving traffic to it had a curiosity-rich subject line: Massive Mistake Melts 48lbs off her body. "Mistake" is a really strong copy word for headlines, subject lines, and fascinations...its power is often overlooked. Everyone wonders what mistake they're making. Here's it's used as a sort of accidental discovery or secret.
If you're like me and can't watch video sales letters for more than 5 seconds without wanting to pull my hair out, the video transcript is here. Here is the rest of the progression:
Abandon page with payment plan
It then goes to a second abandon page with a free recipe (with email capture), then to another video page. This has a "See if you qualify" pop-up button that takes you to another page, and then to another, using a Free Recipe as bait. You'll need to run the gauntlet yourself in order to check out all the different pages and offers.
Side note: I don't feel like this is a positive customer experience at all...but maybe that's just me. These funnels are definitely working.
And they're key to companies are making their customer acquisition efforts work for them, and even bring in a profit, or at least cover their costs (like hiring us copywriters).
I think the future will tell if this helps their businesses over the long term as far as eroding lifetime customer value. You either pay today or you pay tomorrow. But that's another topic for another time!
Yours for smarter marketing,
Kim
P.S. If you want to make sure you can DELIVER as a copywriter, and ratchet up your skill set so you can write successful promotions when given the chance to do so, you'll definitely want to keep your eye out next week for something new I'll be offering. It's going to give you a way to accelerate your copywriting prowess and take it to the next level far faster, so stay tuned. If you're not already on my priority list to be the first to find out about it, make sure you get on it here.