Want new client projects? Try this!
Issue #68—June 7, 2019
Maybe you're trying to break in with a new potential client.
Perhaps you've done work in the past with a client you enjoyed working with and you'd like to do more.
Or maybe you REALLY need some work and moolah coming in, and will consider working with a client that was a pain in the butt or paid you too little (although I hope that's not the case).
For any of these situations, I'm about to reveal a strategy you can use to line up some new client projects starting right now.
Use this strategy wisely and you can book up your schedule in advance (which has the highly profitable effect of making clients want you even more since you're "unavailable") plus get some cushy advances coming your way tout suite.
(Note: This strategy I'm about to reveal is just one of several business-building and copywriting secrets my good friend and top A-list copywriter/author Richard Armstrong shared with a lucky group of folks on our first Copywriting Velocity coaching call this past Wednesday.)
We're all in the business of ideas
Here's what you do: As copywriters, we're in the business of "ideas"--and so are our clients.  Companies that sell supplements, health newsletters, financial advisories, and other products via direct marketing are always looking for that next big idea that can SELL.
It's not just a matter of breaking through the clatter and clutter of promotions that are constantly hitting your prospect from all directions and grabbing their attention.
It needs to be a big enough idea that it's got "legs". It needs to be such a powerful and engaging idea and promise, it gets our increasingly ADHD prospect to read it, not just click on it.
Some of the world's best copywriters on the planet have tried and failed to come up with successful ideas like these. That's because it's gotten harder and more challenging than ever.
But it happens all the time that someone, perhaps someone who's never been heard of outside of a teensy-tiny Facebook copywriting group, hits on something they convinced a company to try...and comes up with a huge winner.
So here's what you do if you want to try to get your "big break"--or if you're an established copywriter. (In fact, not that he needed the work, but Richard said he used this strategy to land a new project a year ago with a longtime client, and ended up getting a hot new control with it---by beating a previously "unbeatable" control written by none other than Parris Lampropoulus).
Here's what Richard says you should do: Read everything you can that your prospective client puts out. Research what's going on in their space--newsworthy things, what the competition is doing, new developments, etc. And then...
Start brainstorming!
If something grabs you and makes you stop say, "wait, that's interesting...", then it very well may have the same effect on a prospect (and your prospective client).
Look, in our increasingly bizarre world where we're all seeing things we never thought we'd see in our lifetimes, when you can hit on something that stops you in your tracks, you know you're onto something!
Now take that idea, flush it out some more, look for some back-up/research. Then write out some possible headlines and short leads that could work with it---or find some other way to "demonstrate" the idea, i.e., a copy platform synopsis.
Then send that to your prospective or past client. Let them know you're following their stuff (you'll want to be getting their free e-letters and even buy their product or subscribe to their newsletter). And that you're interested and passionate in the subject matter.
Share just enough of your flushed-out idea to get them intrigued (don't give away the store to protect your interests). Oh, and only do this with a potential client or company you trust won't rip you off and go do your idea themselves. Only do this with a company with integrity.
And then see what happens. Follow up after a week or so, since a lot of emails do get buried or end up in spam folders. If they don't bite after a few follow-ups, move on.
According to Richard, who works with a lot of major publishers, including financial, this is a great technique for breaking in with a new client, or reactivating a past one. Even if it doesn't result in a project, it's a great exercise for you to go through if you're somewhat new to this copywriting thang.
Because this is the hardest (and most crucial) step in writing a new promotion...coming up with good ideas. There are a lot of people in the world who can string together a bunch of words and call themselves a "copywriter". But the real superstars are the ones that find the best ideas and turn them and the right words into breakthrough million-dollar controls.
Opportunity for copy critique from 2 top A-listers
Speaking of million-dollar controls, my longtime friend and colleague--and queen of the health controls Carline Anglade-Cole, is going to be on my entire Copywriting Velocity group coaching call this coming Wednesday. And it's not too late for you to join us!
Carline and I will be doing live critiques of copy that YOU submit by this Monday. It's an incredible opportunity to get direct feedback from two pros who between us have probably written at least 100 kick-butt controls over the past few decades!
You won't want to miss out on this chance to improve your current promo or copy you're working on. This copy critique is worth at least $1,000 just on its own (and what you'll glean is priceless!) People who attended my live event in March say this was one of the most valuable things they got out of coming. And copywriters I've coached and mentored always say it's worth its weight in gold whenever I go through their copy with them.
Click here to find out how to join us on next week's call with Carline...plus get the full recording/promos of the incredible call you missed this week with Richard...plus be on upcoming calls with "Big Jason" Henderson, Lori Haller, and yours truly).
Where to find swipes to study
I hear a lot from copywriters who are looking to get more swipes and samples of what's working so they can study them. One good source may well be Clickbank, where you can find promotions that are working to cold traffic online---obviously a very hard nut to crack and be successful in.
Obviously I've heard of Clickbank, and I'm sure some of my promos may have even been out out there in the past, though it's not someplace I've ever lurked. However, in the Gary Halbert Copy Club Facebook group the other day, Jon Tarr posted about this being a recommended place to look for successful swipes.
Here are his step-by-step instructions I thought I'd share here that he recommends to copywriters once you view the top promotions that are working best right now:
1) Go to Clickbank and search for the Top 10-20 Products in the MarketplaceWatch the VSLTranscribe the VSL (Rev.com)
2) Handwrite the TranscriptionList out 15 Problems of the Market (Usually in the VSL)
3) What are 10 benefits of the product?What are 10 ways the benefits "show up" in the lives of the prospect. More Money = New Car, etc.What is the "Mechanism or Point of Difference" of the product.Repeat
And here's how you find those top-performing promotions on Clickbank: 1.) Go to Marketplace tab 2.) Do an advance search 3.) Do not put anything in the boxes. 4.) Hit the search button 5.) List Appears from top to bottom
And the #1 most successful promotion on there (at least as of last night?) Drumroll please...
What's in Kim's Mailbox?
It's at this link: https://theflatbellyfix.com/vsl/ Here's what you see once you click on the link and it loads on the page...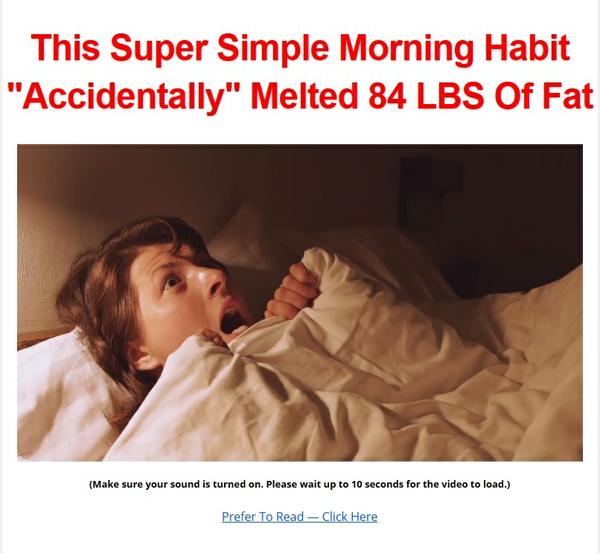 Jon says in his post, "In my opinion the HARDEST thing to do in our business is create a "Point of Difference" or "Mechanism" that converts to cold traffic." And I agree 110%.
This is a lot of what I teach in my Copywriting Velocity Complete Virtual Program, and what I've done in successful control after control over the past 20+ years. In today's world, the weirder or more "out there", in many cases, the better. The more dramatic and the more your prospect can't look away or "unsee" it, the better.
I don't have time to go through this VSL with you, but I highly recommend you take a look at it. It's combining a gripping and highly dramatized story with a unique mechanism.
(This is a proven technique that's been used successfully time and again, including a ridiculously successful email "Big Jason" Henderson wrote that he'll likely share when he's a guest on one of my upcoming Copywriting Velocity group calls)
In the "Flat Belly Fix" VSL above, you get pulled in by the story, but it quickly reveals that point of difference/unique mechanism that triggers curiosity and exclusivity. You just have to get what they're selling to be able to use it. You're not going to hear about it anywhere else.
And in the super-overcrowded, overhyped, and oversaturated advertising-packed world we live in, if you're ever going to sell something, this is exactly what you need to make your prospect believe.
Yours for smarter marketing,
Kim
P.S. You can still save $500 on my Copywriting Velocity Complete Virtual Program + Live Coaching Calls. Sign up now and you can submit your copy for Carline and I to critique for you. You will be blown away...I guarantee it. You don't want to miss it. (Plus top email expert "Big Jason" Henderson and design genius Lori Haller have huge things in store for you as well later this month. And you'll get the dripping-with-gold recording of this week's call with Richard Armstrong and 4 promo control PDFs or links, too...oodles of good stuff to study and learn from!)